Our first office in the west.
Since 1976, Smith + Andersen has served Southern Alberta with innovative engineering solutions for discerning clients. Offering everything from award-winning mechanical and electrical engineering design to innovative audio-visual and lighting design solutions, our Calgary team has built trusted relationships with local and national clients.
With the ideal balance of seasoned professionals and young and energetic up-and-comers, our Calgary office is a place where true mentorship occurs. Staff take pride in contributing to meaningful work that shapes the community around them, and seize the opportunity to enjoy that community themselves. From our participation in and support for local Stampede events, Calgary Corporate Challenge, or a local painting night, we're proud of an office that truly works (and plays) together as a team.
EXPANDING OUR HEALTHCARE PORTFOLIO
Over the last decade, Smith + Andersen has emerged as a leading building engineer in the field of healthcare design. As the engineer of record for numerous, award-winning healthcare projects across Canada, we have grown a national team that specializes in this market sector.
This work has led to our Calgary team playing a key role in the $1.4-billion Calgary Cancer Centre, proving both mechanical engineering and sustainability consulting for this landmark development.
FUTURE FIT
We designed flexible and adaptable mechanical and electrical systems to fit the owner's vision for the Platform Parkade & Innovation Centre in downtown Calgary. This project is so much more than a parkade, with the mechanical and electrical flexibility built in to accommodate future residential or commercial spaces, and the specialty lighting design to attract people to use this as an event space now.
AWARD-WINNING SOLUTIONS
An ultra-low energy mechanical system was designed to help the Taylor Institute for Teaching & Learning at the University of Calgary achieve LEED Gold certification (and it's net zero ready!).
"We designed our office knowing how our staff work and deliver projects – there's this unique mix of collaboration and focused work that happens, and we knew we had to design for that. It's a place that we all enjoy coming to each day, and you can really feel that in our new office."
HOW THE WEST WAS FUN!
In keeping with the spirit of Calgary, we work hard…and we play harder. Our team members enjoy each other's company, but we also aren't afraid of getting a little competitive, be it a paint night, stampede-related shenanigans, or corporate challenges.
Image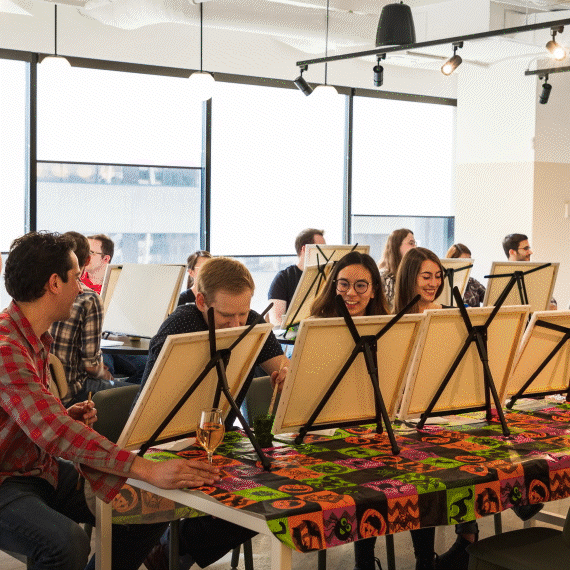 OFFICE AFICIONADOS
Nearly every office tower in downtown Calgary has received consultation from the Smith + Andersen team. From base building work to tenant fit-outs – and the growing demand for office to residential conversion – we help clients make the most of existing buildings and tap into new possibilities for exciting new landmarks.