The University of Calgary's new, expanded Mathison Hall business school officially welcomed students this month.
The building is located adjacent to the campus' existing Scurfield Hall and is part of the Haskayne School of Business.
The goal of this project was to create technology-rich and innovative environments that facilitate learning and networking. GGA-Architecture and Diamond Schmitt Architects worked together for the design of the building as a joint venture, developing a dynamic addition to the university's business campus that is inspired by Alberta's prairie landscape. The building's multi-storey, sun swept atrium serves as a central gathering space with expansive views of nature. With 100,000 square feet of additional space, Mathison Hall is now complete with additional study areas, diverse learning environments, a 300-seat flexible event auditorium, and space for entrepreneurial thinking.
Image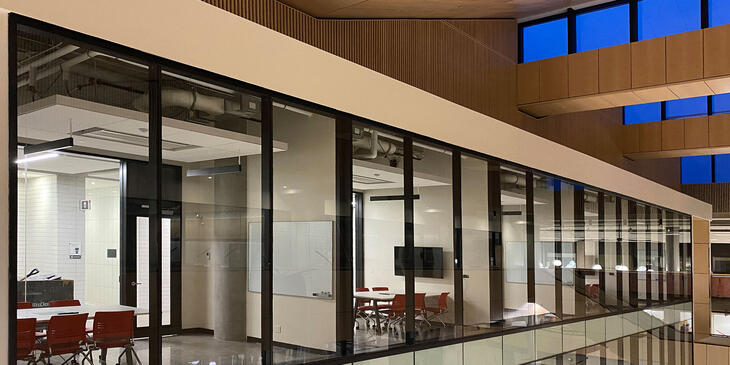 Smith + Andersen provided mechanical design services for the construction management (CM) delivered project. Central to the success of the design was the implementation of high-efficiency mechanical systems, such as radiant heating and cooling as well as heat recovery. We also designed underfloor air distribution solutions to reduce the building's Thermal Energy Demand Intensity (TEDI) to less than 36 kWh/m2/year.
Sustainability was a focus throughout the entirety of this project, with our Footprint team also engaged as the sustainability consultant for this expansion project. Footprint provided energy modelling services to evaluate the energy performance of the expansion, incorporating net zero carbon design principles to achieve the TEDI associated with the project goals. The Mathison Hall Expansion was designed to target the Canada Green Building Council's Zero Carbon standard, as well as LEED v4 Platinum.
LEARN MORE about the University of Calgary Mathison Hall Expansion