With vacancy rates in the downtown core rising to 27 per cent, Calgary's most prestigious office towers offer a unique opportunity for design flexibility, particularly for the city's growing market: tech firms.
From large tech firms occupying multiple floors of a high-rise, to the smallest of start-ups occupying collaborative workspaces, the local rise in this sector is undeniable.
Smith + Andersen leverages decades of experience providing engineering consulting services for office tenant fit-outs in a wide variety of sectors across Calgary. Our flexible yet pragmatic approach provides the same reliable solutions for some of our more traditional commercial clients as it does for non-traditional tech firms. Companies like Absorb Software, Symend, Userful, Avanti, Blacksquare, Replicon, and Benevity are looking at the blank slate provided by local vacancy rates as an opportunity to create some truly unique spaces. Our mechanical and electrical engineers, not to mention local audio-visual design specialists, leverage decades of expertise designing office spaces to collaborate with tech clients and interior designers on the office spaces of the future.
Image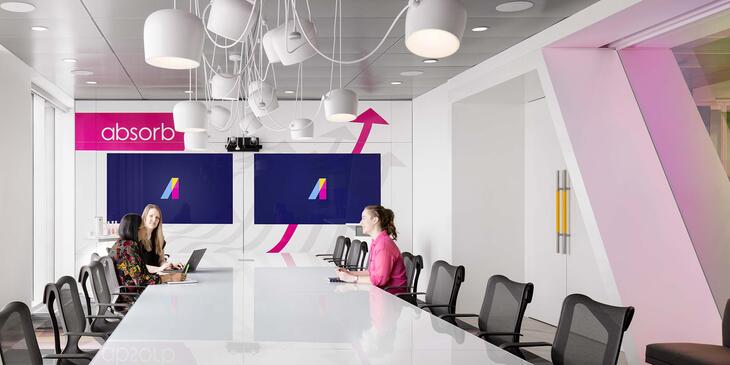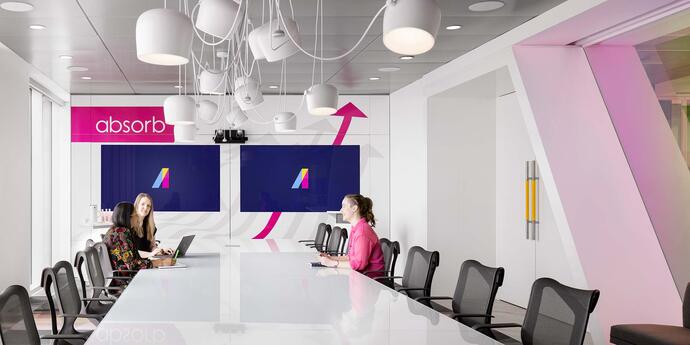 When approaching a new office space in the downtown core, these clients must work with engineering design consultants who understand the unconventional spaces that a tech firm is striving to achieve for employees and visitors. Through efficient mechanical and electrical systems design, tech firms are able to create their dream office, while simultaneously lowering operating costs.
While no office is the same, the unique mix of space types within these innovative workplaces has direct implications on the mechanical and electrical design.
Collaborative Areas
The modern office prioritizes space for physical and digital collaboration. Inter-mixed with the surrounding workstations (including plenty of space to physically distance), collaborative areas offer spacious informal meeting spaces supported by convenient audio-visual features (such as interactive monitors that allow employees to collaborate in-person and virtually) and efficient lighting (cost-effective lighting fixtures that promote a comfortable working environment).

Innovation Spaces
The very nature of a technology firm requires a flexible office space, with "innovation pockets" that support the rapid pace of development and shifting between short-term and long-term projects. Projects scale up and down at a (sometimes) unpredictable pace, and the office space itself must accommodate that need. Flexible mechanical and electrical systems design enhances the comfort of these creative spaces with energy-efficient HVAC systems and effective lighting design (adjustable to user needs).

Event Spaces
A common feature of many tech firms is an event space for product showcases. Event spaces typically include areas for product demos (such as virtual reality stations), as well as a lounge (including a bar area), and must accommodate the necessary square footage needed to configure and re-configure as-needed. These areas require reliable electrical and audio-visual systems for product demo stations, and mechanical systems that meet very specific requests— like refrigeration needs—all while blending into the interior design of the lounge.

Open Ceilings
Our teams collaborate with the interior designer to provide mechanical and electrical systems that complement the interior design, and an open ceiling is often requested. Through perpendicular and parallel ductwork, our teams work with the interior designer to create a clean, meticulous ceiling space that works well with the aesthetic of the office spaces below.

Smith + Andersen is proud to support these forward-thinking clients as they make themselves at home in and around the city of Calgary.
For more information on the growing tech industry in Calgary, check out:
Calgary Herald (Sept. 21, 2020): Tech companies moving into the downtown, taking up empty oil and gas space
Betakit (Nov. 29, 2019): Calgary tech companies unite to draw in more entrepreneurial talent
Newswire (Sept. 9, 2020): Opportunity Calgary Investment Fund supports SAIT Digital Transformation Talent Hub providing Calgarians job skills for the digital economy
Calgary Herald (Aug. 18, 2020): Local tech sector hosts hiring fair, more than 300 jobs available
Livewire Calgary (Aug. 20, 2020): Calgary tech startup finds niche in lagging COVID real estate market
Calgary Herald (Feb. 20, 2020): Absorb Software a success story for Calgary's high-tech industry