Following months of national anticipation, the "Panda Passage" exhibit opened at the Calgary Zoo on May 7th.
As one of the largest Panda exhibits in the world, this new and improved habitat is now home to Er Shun, Da Mao, and their two Canada-born cubs, Jia Panpan and Jia Yueue.
The goal of this project was to create a healthy and comfortable environment in anticipation of the furry family's arrival. Both visitor and animal satisfaction were of high importance during the planning process, achieved through the creation of 17 indoor and outdoor visitor experience spaces and numerous secluded areas for the bears' privacy. In an effort to make the animals feel at home, the enclosure is filled with trees, plants, and water systems, resembling a familiar and natural environment. Also, a nursing room was added with high-hopes of future baby cubs to be born before the pandas return to China.
Now a main attraction at the Calgary Zoo, the tourist count is expected to rise to an all-time high. Zoo officials are confident that the increased attention surrounding this vulnerable species (with fewer than 1,800 pandas left in the wild)* will educate visitors on the importance of breeding programs and doing their part in conserving animal habitats.
Image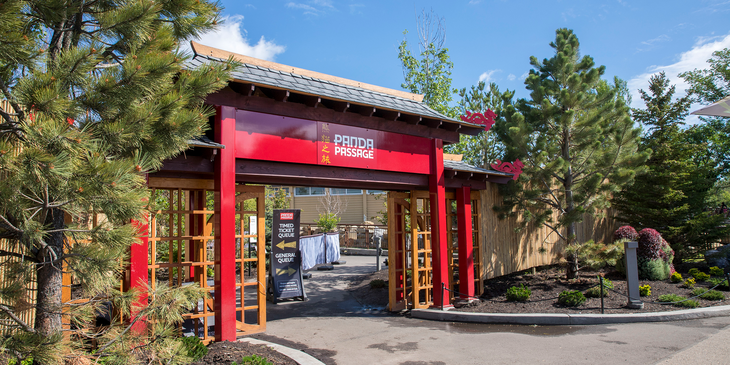 Smith + Andersen had the pleasure of consulting on the mechanical design for this long-anticipated project, working collaboratively with both the client and architectural teams to achieve this world-class habitat. The Eurasian Gateway Building, which was formerly home to rhinos and elephants, was repurposed, requiring a partial re-design and upgrade of the existing mechanical systems. Additionally, in both the interior and exterior areas, our mechanical team designed specialized "hot/cool" rocks, specifically placed in visible locations to attract the pandas and thus provide an up-close view to guests. The advanced technology of the rocks permits cooling in the summer and warming in the winter, allowing the pandas to regulate their temperature and remain in utmost comfort.
The Calgary Zoo has also made a commitment that this project would be the first to be designed in Calgary using the Living Building Challenge Program. Clearly aligned with Smith + Andersen's values, the Panda Passage was built with sustainability and efficiency as a top priority throughout design and construction.
Congratulations to the entire project team on the successful completion of this new exhibit. For more information on the Calgary Zoo Panda Passage, please visit:
CTV News (May 6, 2018): Panda Passage opens in Calgary on Monday with an international celebration
Calgary Herald (May 7, 2018): Giant pandas begin five-year stay at Calgary Zoo; officials expect rush of visitors
CTV News (May 7, 2018): Giant Pandas make first public appearance at Calgary Zoo
660 News (May 7, 2018): It's finally here! Panda Passage opens at Calgary Zoo
CBC News (May 7, 2018): Calgary Panda exhibit opens to the public
The Star Calgary (May 7, 2018): Giant pandas explore their new Calgary Zoo home