Every other year, the Toronto Urban Design Awards recognize projects that have made significant contributaitons to elevate the City's urban design excellence.
We're proud to have consulted on two of the projects honored by the 2021 awards: 80 Atlantic Ave. and Seneca College Centre for Innovation, Technology, & Entrepreneurship (CITE). Congratulations to the clients and all parties involved in the creation of these projects - it was a privilege to be part of such innovative teams.
For further details on these projects and a complete list of award winners, click here.
80 Atlantic Office Building // Toronto, ON
Award of Excellence: Private Buildings, Mid-Rise
Architect // BDP Quadrangle
Developer // Hullmark
S+A // Mechanical, Electrical, and Security
80 Atlantic is Toronto's first heavy timber construction building in a generation. The five-storey office building is located in the heart of Liberty Village and includes ground-level retail and two levels of below-grade parking. It features unique glazing that showcases views of an adjacent communal space and sister building, with an overall typology that is both sustainable and aesthetic.
With creativity at the forefront of this design, Smith + Andersen's mechanical and electrical concepts use innovative solutions to address the complex challenges posed by the timber frame. Dedicated gas-fired DX rooftop units were implemented to maintain ambient conditions on each floor, accommodating not only the wood structure but also increasing occupant comfort. Collaborative efforts from electrical services and wood frame suppliers led to the creation of an underfloor raceway system that conceals conduits to maintain clean architectural elements. From beginning to end, the goal of this project was to create a new standard of development – integrating natural and high performance materials.
Image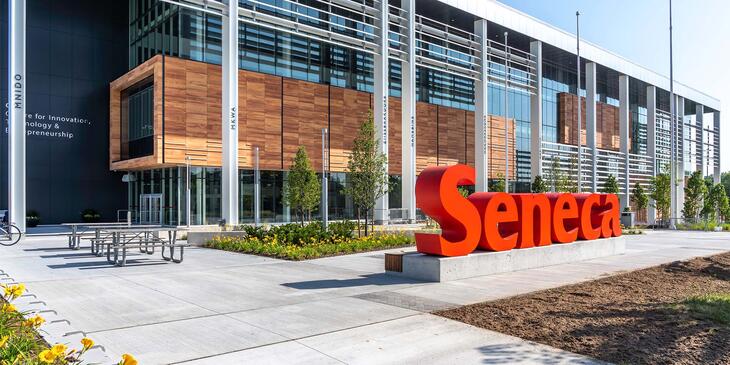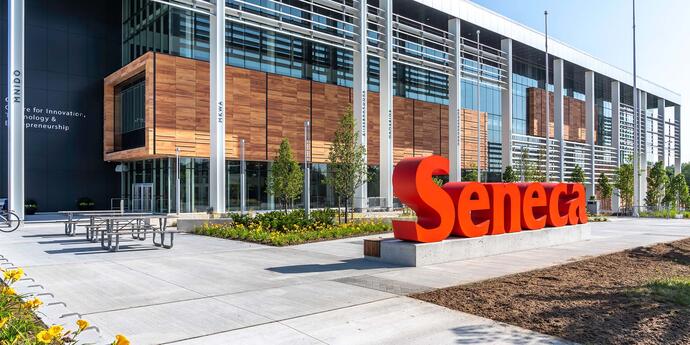 Seneca College Centre for Innovation, Technology, & Entrepreneurship (CITE) // Toronto, ON
Award of Excellence: Public Buildings
Architect // Perkins&Will
S+A // Mechanical, Electrical, Lighting, Communications, Security, Audio-Visual, and Sustainability (Footprint)
Seneca College's CITE is a central learning hub designed with an intentionality to create a space informed by the local community and its needs. The project is Seneca's biggest construction project yet and involved extensive collaboration from numerous stakeholders, including the college's executive leadership, The Aboriginal College Council, designers, and construction team members. Throughout the design process, a series of elements were created to tell Indigenous stories within the framework. Components like 13 large columns that reflect Ojibwe, Cree, and Mohawk lunar cycles bring this vision to life.
True to Indigenous values, the design of this building prioritized sustainability and energy efficiency, with energy modelling conducted at each phase of the project. This resulted in LEED Gold certification as well as the reduction of both greenhouse gas emissions and utility costs. The lighting design complements the architecture of the five-storey atrium and features integral shading components on the exterior of the building. From the centre's classrooms to its offices and laboratories, this project embeds Canadian values and history throughout its design.