Two S+A designers discuss what they learned as part of the Centennial College A-Block Expansion team.
Renderings courtesy of DIALOG.
Located on their Progress Campus, the Centennial College A-Block Expansion is a physical and financial testament to the College's commitment to Truth and Reconciliation. The project design is based on the concept of "Two-Eyed Seeing"—viewing the world through both an Indigenous and Western lens.
The expansion involves a six-storey addition of the campus' A-Block, with renovations to the existing building. In total, the scope includes 150,000 square feet (gross) of space to house the School of Engineering Technology and Applied Science programs in flexible spaces that support Indigenous ways of teaching. Upon completion, the building has the potential to become the first mass timber, Zero Carbon certified (already achieved), LEED® Gold higher education facility in the province, setting a precedent for learning environments to follow.
Smith + Andersen's Senior Associate Brandon Hayes (electrical design) and Designer Geoff Wolk (mechanical design) worked alongside Smoke Architecture, an Anishinaabeg-owned and operated firm, and DIALOG Architecture on this unique project. Like many of our projects, Centennial College A-Block Expansion was an excellent example of how designing as part of a team is mostly about listening to, and valuing, how others view the project.
Image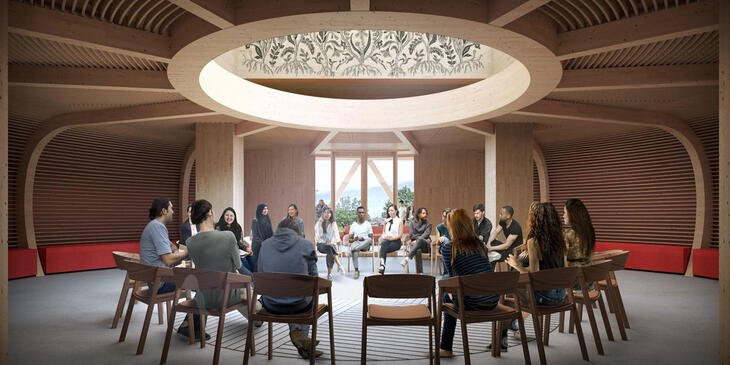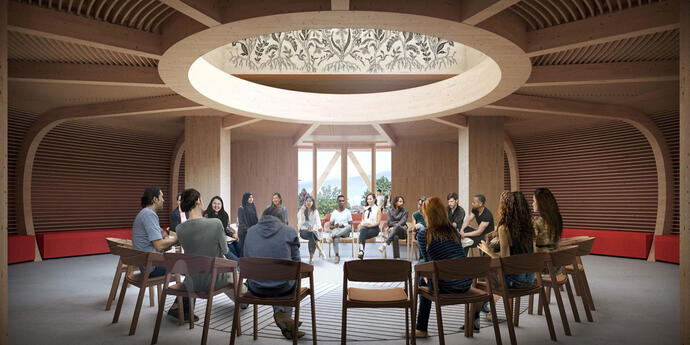 Can you walk us through some of the spaces within this expansion?
BRANDON:
From the moment you walk into the building, there's a synergy about the place. Following direction from Smoke Architecture, there was a focus on aesthetics, but not in the way that you would typically see such a focus (where it's about making things "look pretty"). On this project, it was really about how the visual components worked together to create a story. From natural elements being pulled into the interior of the building with wood, through to the curved spaces that draw from Indigenous architectural precedents, every piece of the project works together as a narrative.
GEOFF:
In the middle of the building on level two is the Indigenous Commons, which stands as a central gathering space for the building. It's a dome-shaped room designed on the principles of Anishinaabe roundhouse (nimii-idiwigamig). We were told the space would be used for ceremonies and gatherings. We also learned that this is one of the places smudging would occur so, as engineers, we knew that meant accommodating the smoke that would be created in the space. We had to find a way to exhaust it out of the building, and used additional fans for ventilation in response.
BRANDON:
Arguably, one of the most direct interactions for our electrical team was also in the Indigenous Commons. The space has these beautiful slatted ceilings with a ring-shaped skylight right in the centre. We had to select lighting fixtures and diffusers that fit between the wood slats and lit the room in a way that elevated the architecture and didn't try to compete with it.
What were some other spaces where Two-Eyed Seeing came into play?
BRANDON:
The Elder Room was also interesting for the electrical team because of the amount of discussion there was around the design and the feedback we were getting. The room is small and also round – I had never worked on a room with this particular shape, size, and budget. We received a lot of great direction from Smoke Architecture as there was a lot to learn. Take the number of lights in a room, for example. Certain numbers denote positive connotations from Indigenous perspectives, so we worked with the User Groups and the Architectural Team to make sure our designs were aligned with this.
GEOFF:
One of our main mechanical design challenges was concealing our systems so that the story being told through the Architecture was the focus. Wisdom Hall, for example, features a cascade of terraces and stairs with double-height ceilings. The ceilings feature Indigenous artwork on wood panels reminiscent of the shoreline meander of Highland Creek beside the building. While every project involves a level of collaboration, the Centennial College A-Block Expansion was much more than a typical project, especially when it came to proposing where to run our mechanical ductwork. Two-Eyed Seeing was extremely important here, and we coordinated extensively with the architect to understand what was going where and why, so that we could accommodate the big-picture goals into every detail of our design.
What was your major takeaway from this experience?
GEOFF:
I gained a whole new level of appreciation and understanding for the use of space in buildings and the stories that can be told within these spaces. I never would have imagined there would be a wood-burning fireplace in a post-secondary educational facility, or that people might be using a six-foot drum with a classroom directly below it, and how effectively these important spaces can coexist. And our team wouldn't have considered these things if we didn't have experts and users guiding us with their first-hand knowledge, telling us how they would be practically using the space. The project team worked together to create a building that helps Centennial further its commitment to Truth and Reconciliation, and a lot of the time our role in those conversations was simply just listening. We needed to hear other perspectives and balance how we would make that work with our designs. It's a smaller role, but it's also a role I take a lot of pride in.
BRANDON:
My biggest takeaway was that, despite having more than a decade of experience in the industry, I don't have all the answers… I don't have the full playbook. The entire concept of "Two-Eyed Seeing" is about viewing the world through the lens of Indigenous knowledge in addition to the lens of Western knowledge. And in this case, I definitely did not have a full grasp of the Indigenous knowledge part of that concept. I still don't and won't ever. But I can be continually learning, seeking to accommodate, and striving to understand new and old perspectives by way of the conversations that are taking place around me. That's why this was such an incredible opportunity—to hear from Indigenous representatives in meetings and talk to people I don't always interact with on design teams. There has been so much to learn, and I know I speak for the whole team when I say we're proud to have been a part of a project that is taking such a strong step in the right direction.
Brandon Hayes is a Senior Associate based in our Toronto office. He is a trusted leader who specializes in electrical design, with experience in national mission critical, healthcare, office, and residential project sectors.
Geoff Wolk is a Mechanical Designer based in our Winnipeg office. His project experience focusses on multi-unit residential buildings as he works collaboratively to drive projects towards success.
To learn more about this project, please visit the Project Page.