How is healthcare evolving in order to enhance community services?
The Challenge
Community-based care facilities are increasingly in demand across Canada. Conceptually, these facilities would bring health and community services—traditionally offered in separate locations or in a larger hospital setting—into one, campus-like setting that provides direct and easy access to a multitude of services. In Ontario, the Orléans Health Hub will be the first health and community services facility specifically designed to address this need. The Orléans Health Hub is a joint venture between Infrastructure Ontario and a host of Ottawa healthcare facilities:

Hôspital Montfort
Bruyére Continuing Care
Champlain LHIN
Children's Hospital of Eastern Ontario
Eastern Ottawa Resource Centre
Geriatric Psychiatry Community Services of Ottawa
Youth Services Bureau of Ottawa

The 96,000 square foot Orléans Health Hub will include medical exam rooms for outpatient services, comfortable office space for mental health and wellness appointments, diagnostic imaging areas (MRI, radiography, ultrasound, x-ray), minor procedure rooms, decontamination and sterile cleaning rooms, geriatric support and wellness, and active rehabilitation and physiotherapy areas (including a gymnasium). Supporting systems, such as nurse call (code white), patient wandering, and security and telecom (WiFi), will span the entire facility. Construction on the Hub is currently underway, scheduled for completion in 2021. The Hub will focus on consolidating bilingual, high-volume services from Ottawa's high-traffic healthcare facilities. Once complete, this facility will provide residents of the greater Orléans area with access to integrated programs and outpatient services closer to home, through a comprehensive, service-based model of care. The design team was tasked with re-thinking healthcare design to create a facility that prioritizes flexibility to support the co-existence of each service in the same building. Smith + Andersen is engaged as a multi-disciplinary engineering and design consultant, as the project team collaborates to create a new type of facility that will act as the blueprint for further facilities across Ontario.

The Solution
Even before the Build-Finance team was selected, the design team worked to determine the requirements of each space within the proposed Orléans Health Hub. The design team established where CSA healthcare standards were applicable (e.g., the needs-based ambulatory program), and not applicable (e.g., the mental health and wellness space). By establishing the degree of requirements in each space from the start, the design team could weave interconnecting systems together to create a customizable facility that suits the individual needs of each health and wellness service. Smith + Andersen's mechanical and electrical teams leveraged decades of experience designing all manner of healthcare facilities—from base building work on acute care centres, to the renovation of lobbies or clinics—to guide the project team along the necessary mechanical and electrical system requirements for each space. The complexity and uniqueness of the design is particularly apparent in two areas of the Hub: the mental health and wellness spaces, and the active rehabilitation and physiotherapy spaces. As one of the areas within the Hub not deemed a "basic care" area, the mental health and wellness portion of the facility consists primarily of office spaces designed for patient comfort (as well as a nearby loading dock). This designation allowed the mechanical design team to leverage cost effective variable air volume systems in these office spaces as compared to the constant volume and heat coils required for specialty areas (such as patient care exam rooms).
Within the active rehabilitation and physiotherapy spaces, areas such as the gymnasium—which typically would not have specialty medical requirements—combine the necessary features required for an athletic space with the necessary medical requirements. Designing lighting, lighting control, and shading systems to provide appropriate illumination and comfort for active spaces, for example, while incorporating medical gas outlets to provide further support and safe rehabilitation. Additionally, the design included support for equipment that monitors patient health. Ultimately, by scaling to the needs and requirements of each area, the mechanical and electrical design accommodates each unique section of the Hub, tying health and community care services together.
Image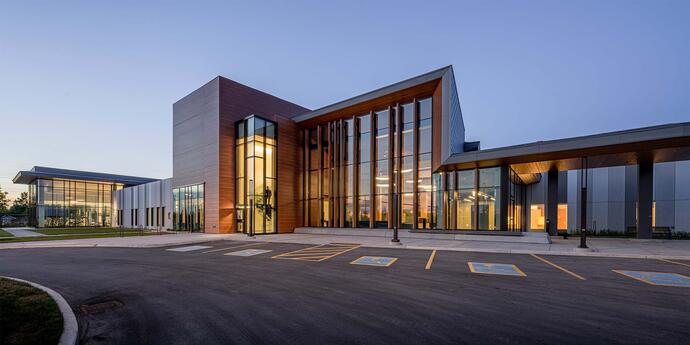 The Result
The Hub will provide Ontario with an operational blueprint for community-based care. By prioritizing flexibility throughout the systems design, the Hub weaves together high-traffic health and community-based services from Ottawa's healthcare facilities directly to Orléans residents under one roof. The design is customizable, providing the Province with the ability to apply similar facilities—each tailored to local needs—in communities across Ontario. The demand for community-based care will only continue to rise throughout Ontario, and the design of healthcare facilities will have to evolve to meet that demand. The Orléans Health Hub represents a significant step in bringing community-based care to all Ontarians.