This new addition to the U of T campus includes interactive lecture halls, computer visualization rooms and an arena for collaborative learning.
Friday April 27th marked the grand opening of the University of Toronto's Myhal Centre for Engineering Innovation and Entrepreneurship.
The technological and design features throughout the centre provide opportunities for both current and future students to advance not only their tangible skills but also their leadership abilities. This development was designed to allow students, alumni, professors, and industry professionals to come together - setting new ideals for post-secondary education and paving the way for generations to come. Thanks to this revolutionary facility, engineers from all over the world now have the resources and support to turn their ideas into a shared reality.
The Smith + Andersen team designed spaces that exceed the standard classroom environment using detailed mechanical and electrical features to help students effectively utilize each space. Driven by Smith + Andersen's energy efficient strategies for sustainable low cost operations, the Myhal Centre is targeted to meet or exceed Tier II Toronto Green Standards and achieve a minimum of 25% energy efficiency improvement over the current Ontario Building Code.
Image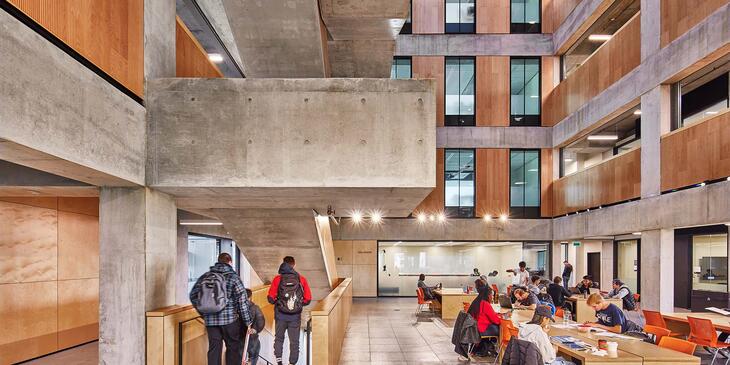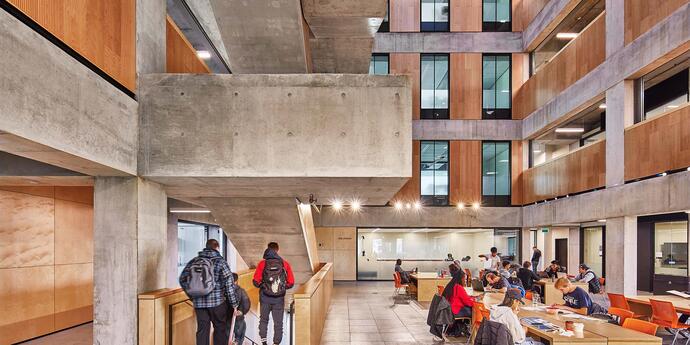 The goal for the HVAC design was to improve the energy efficiency of the U of T building portfolio, while still adhering to their design standards. To achieve this, the design team implemented strategic features including A high performance building envelope, LED lighting, occupancy sensors and perimeter daylight harvesting controls, natural ventilation, and the collection of storm water for irrigation - just to name a few. In total, nine air handling units and two heat recovery units were included in the mechanical building design. Each air handler is capable of 100% free cooling. Additionally, in anticipation of the possible challenges surrounding operable windows, the Smith + Andersen team designed an 'Operable Window Mode' – with air movement divided into a perimeter zone (drawn through the window and mechanically transferred to the penthouse) and an internal zone (which acts as the "normal" condition). Various mechanical and electrical advancements were achieved on this project, with both efficiency and sustainability as central drivers of the design.
We are honored to have been the mechanical and electrical consultant on such an impactful project. Footprint (a member of the Smith + Andersen group of companies) also acted as the energy modelling expert.