Every year the Ontario Association of Architects (OAA) celebrates the excellent work of Ontario-based architects through the OAA Awards.
Project selection is based on architecture which raise standards in design, sustainability, functionality, and overall quality of life. From a pool of 111 award submissions, we are proud to be part of a project which placed in the top 20 finalists.
Smith + Andersen was engaged as the mechanical and electrical consultant on the University of Toronto's Environmental Science and Chemistry Building. Footprint, a member of the Smith + Andersen Group of Companies, was also engaged as the sustainability consultant.
Congratulations to the client, design, and construction teams for creating sustainable solutions which far surpassed the typical expectations for a facility of this type, and to Diamond Schmitt in particular on their OAA Award nomination!
Image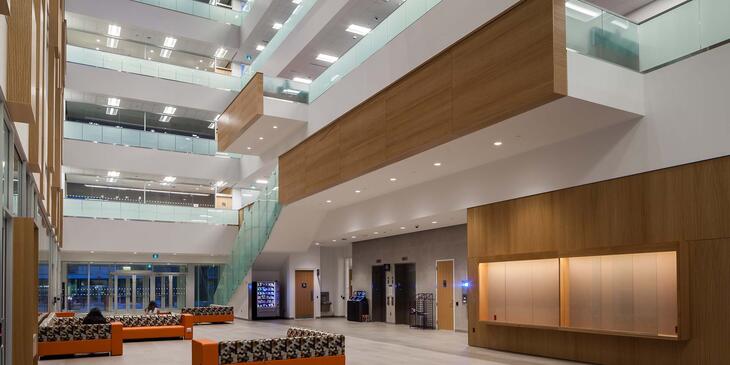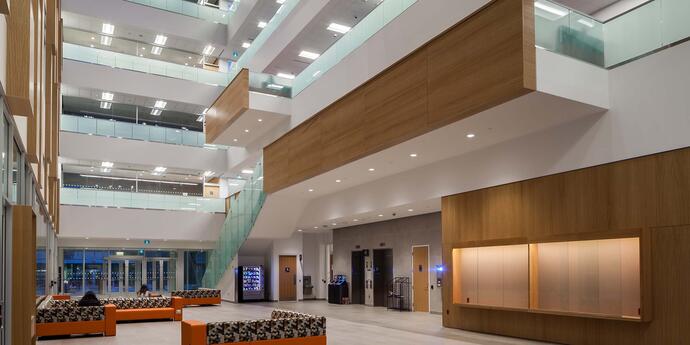 University of Toronto's Environmental Science & Chemistry Building - Toronto, Ontario
Architects //
Diamond Schmitt Architects
Smith + Andersen //
Mechanical and Electrical
Footprint Services //
Energy Modelling and Measurement and Verification Services
"The building brings a new approach to laboratory design—open, transparent, adaptable and flexible while providing a safe work environment."– Jury
A proud recipient of OECA Merit Award 2017, this LEED Gold certified project is a true design feat, as it carves a new path for institutional buildings that are both modern and functional. This captivating five-storey facility, includes a central atrium, laboratories, offices, and meeting rooms. The building – designed for the Facility of Environmental Science - fittingly demonstrates sustainable solutions. According to UTSC's 2016 measured reports, the building uses half the energy intake of similar facilities located across the campus.
The facility's advanced technology is supported by a highly sustainable mechanical system, including geothermal and heat recovery equipment, concrete earth tubes for pre-treating outdoor air, variable volume fume hoods, chemical resistant drainage, and a reverse osmosis system to name a few. On the electrical front, the energy efficient, intelligent electrical design include an energy metering system, lighting control system, and infrastructure for a photovoltaic system. Footprint provided energy modelling, measurement and verification services. The building showcases numerous other sustainable solutions and is recognized as a cutting-edge sustainable facility.