On April 20, 2023, Smith + Andersen will host our seventh Eco Jam at the Phoenix Concert Theatre in Toronto.
Hailed as one of the coolest industry events, this benefit rock concert highlights the musical talent hidden in our industry, as architecture, engineering, and construction leaders from across the GTA listen to their peers cover non-stop hits to a sold-out house.
The event has also always centred around sustainability – the "eco" part of Eco Jam – and is held each year during Earth week. The event draws attention to the importance of sustainability to the construction industry in Canada, and to the importance of preserving Canadian forests. Since Eco Jam was inaugurated in 2013, more than 15,000 trees have been planted through direct donations to Forests Ontario. All proceeds from Eco Jam 2023 will be donated to Forest Recovery Canada (a division of Forests Ontario).
Ten years after the first show, Eco Jam 2023 holds more potential than ever before. Many of our previous performers and bands are excited to share their talents once again. Additionally, after previously organizing "Rock the Joint", Lesley Smith (Stella Custom Glass Hardware) and Bill Michoulas (EllisDon) have signed on to help organize the event.
Image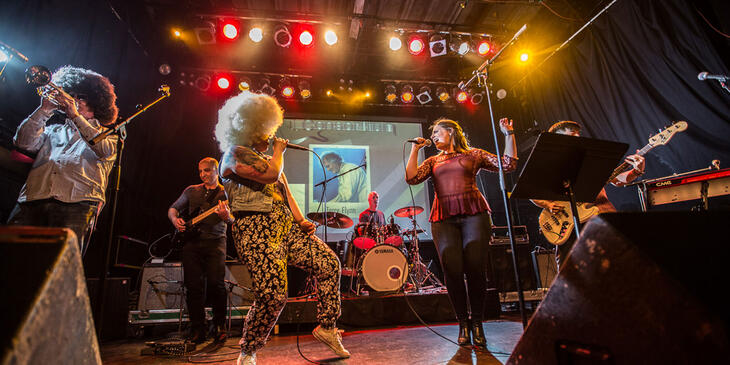 This year's Eco Jam will feature performances by talented musicians from BDP Quadrangle, B+H Architects, Bird Construction, CS&P Architects, Diamond Schmitt Architects, EllisDon, Entuitive, Hariri Pontarini, HOK, Arcadis IBI Group, In Studio Creative, Kirkor Architects and Planners, Montgomery Sisam, Smith + Andersen, University of Toronto and Zeidler.
While planning is well underway, there are still many ways to get involved with this beloved industry event. Bands are signing up fast, and there will be opportunities to donate to specific bands to help raise money for planting trees.
If you would like to be an industry sponsor of this event, or to make sure you are in the loop for ticket sales, please COMPLETE THIS FORM to get in touch with the Smith + Andersen Marketing & Communications team.

UPDATE (MARCH 23, 2023): Eco Jam 2023 is now SOLD OUT (sponsorships and tickets)! Thank you everyone for your support - looking forward to April 20th!
Still not sure what we're talking about? Check out past Eco Jam and Rock The Joint event photos below.