Every year, the Ontario Architects Association sifts through more than 100 examples of inspiring work in an effort to identify a winner of the prestigious Design Excellence Award.
This year, the OAA narrowed their selection down to 20 finalists – designs which portray "creativity, context, sustainability, good design, good business, and legacy". Each of the 20 selected finalists demonstrates these six attributes (and many more), representing the respected (and emerging) design talent of Ontario designers across Canada and around the world.
Smith + Andersen had the great privilege to work on five of these impressive buildings – public and private developments that will stand the test of time. We're always proud to work with talented architects on community-building projects across the country, and were honored to be part of the design team on these five landmark projects.
The winner will be announced on Monday April 3rd. In the meantime, congratulations to each of the finalists – it's fantastic to see your hard work receive the praise and attention it deserves
Image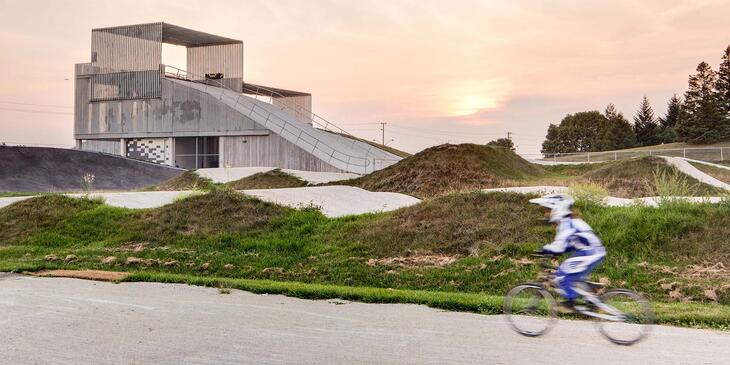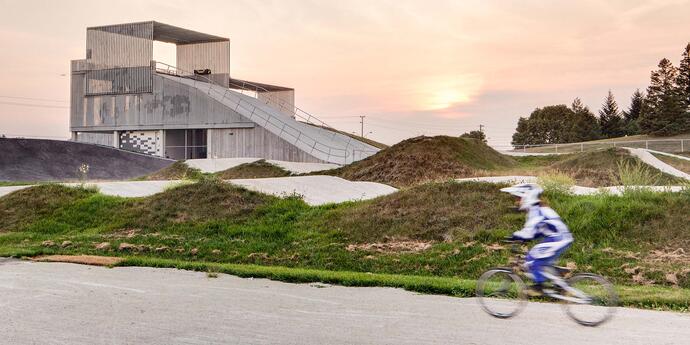 Architect // Kleinfeldt Mychajlowycz Architects (KMA)
Track Design Consultant // Elite Trax
Structural Consultant // Halsall Associates
Electrical Consultant // Smith + Andersen
Athletic events may be temporary, but they trigger local projects, buildings, and infrastructure which make a lasting impact on the host city. Case-in-point: the 2015 Pan Am / Para Pan Am Games, which triggered numerous critical recreation, infrastructure, and community projects around Toronto, including the KMA-designed BMX Supercross Legacy Track.
Nestled in Etobicoke's Centennial Park, this BMX extension features a 517-metre track and a fixed, eight-metre starting ramp (designed to the certification standards of the Union Cycliste Internationale) with an attached service building. This "service building" looks more like a work of art, and was described by the architectural team as both, "an object in a landscape and a landscape in its own right…at once separate and unified." The track also includes a spectator stadium at the finish line.
As a proper racing facility, the electrical design required receptacles along the track, with an underground empty conduit system. These features allow for video cabling, temporary feeds, and timing loops. Additional distribution equipment was also added in order to accommodate the power and lighting for both the track and the building.
Not only did this facility surpass the needs and expectations of the 2015 Games, but it has also become a community landmark.
Architect // Perkins + Will
Structural Consultant // Entuitive
Mechanical and Electrical Consultant // Smith + Andersen
Since the Meadowvale Community Centre first opened its doors in 1982, the surrounding community has grown rapidly. By 2013, the need for a new sports, recreation, and community centre was clear.
Designed by Perkins + Will, the new, 85,000 sf community centre not only replaces but also vastly improves the aging building that came before. In keeping with the theme of health and wellness, the new centre has two main entrances – one facing the parking area to the west, and the other stepped down toward Lake Aquitane Park to the northeast. As the newest community centre constructed in Mississauga in the past 10 years, Meadowvale Community Centre has everything: a 25-metre, six-lane lap pool; a fitness centre (surrounded by a two-lane walking track); three squash courts; a double-sized gymnasium; social meeting rooms; and a beautiful new library. But the design also goes one step further to successfully blur the lines between interior and exterior space, with expansive windows overlooking the park, and several gaming areas – including a basketball court – immediately accessible outdoors. Sustainability was also central to the design, and the community centre champions features such as a green roof, heat recovery systems, and the use of recycled, low VOC materials.
This feeling of "bringing the outside in" also carries through to the mechanical and electrical design. A high-efficiency condensing boiler plant with rooftop cooling equipment was a key feature of the mechanical design. Translation? The air feels as fresh inside as it does in Lake Aquitane Park. Several LEED Silver design initiatives also impacted the mechanical design, including a rain water cistern, low flow fixtures, and staged heat recovery for the pool dehumidification unit.
Electrically, the building is serviced by an outdoor, utility supplied pad-mount transformer, where the voltage is stepped down to 600V to service major mechanical loads within the building. Outside, LED lighting minimizes any light pollution facing the park or the street, while inside, a mix of energy-efficient fluorescent and LED luminaires are triggered by occupancy sensors.
Meadowvale Community Centre also incorporates a fully-integrated building automation system (BAS), supporting the functionality of a design which was not only focused on inspiring and welcoming area residents today, but also establishing a legacy for the Meadowvale community for years to come.
Architects // Marshall Tittemore Architects (MTa) and MacLennan Jaunkalns Miller Architects (MJMA)
Structural Consultant // RJC
Mechanical, Electrical, Communications, AV, and Lighting Consultant // Smith + Andersen
On the northernmost edge of Sherwood Park, a white angular structure pierces the sky. Both striking and inviting, the building is a physical and symbolic nod to the white capped Rocky Mountains – a beacon for wellness.
A 50,000 sf addition to Archbishop Jordan High School, Emerald Hills Leisure Centre is a testament to partnership between education and wellness facilities. Designed by MJMA, the design objective was to create a building that the community could be proud of, but that also "fit in" with the context of the adjacent school. Task accomplished – the final design utilizes ideal building envelope materials and architectural gestures to strike this perfect balance.
Inside, the dedicated aquatic building features four separate pools – a six-lane 25-metre lap pool, a four-lane 25-metre lap pool with an adjustable floor, a children's learning pool, and a whirlpool – as well as numerous administrative areas and meeting rooms. The entire pool area is enveloped in a clean, expansive ceiling that borrows from the striking materiality and sharp angles of the exterior. Our lighting designers worked with the architectural team to provide the most appropriate lighting solutions for this ceiling – solutions which would minimize night sky pollution through the expansive ceiling windows. The LED luminaires ultimately installed at the top corners of the ceiling prism were also carefully positioned to minimize glare on the water below.
For many project teams, a pretty, structurally impressive building would be enough. But, like water rushing in to fill every inch of the container that holds it, good design permeated every part of the Emerald Hills Leisure Centre project. The team wanted to deliver to the client a building that was as functional as it was pleasing to the eye.
One of the central challenges in natatorium design is air quality, as poorly designed or installed ventilation systems are quite common. In order to avoid this, our mechanical team utilized a push-pull ventilation unit, designed to vary the flow of outdoor air into the space and allow the appropriate amount of dehumidification. Additionally, air-to-air heat recovery devices, variable frequency drives, and ultra-high efficiency condensing style boilers were all methods employed to ultimately lower building utility costs.
Besides designing a well-lit, architecturally impressive leisure facility with fresh air, a critical goal of this project was integration and network connectivity. The carefully structured telecommunications cabling system infrastructure supports the back of house, wireless, access control, CCTV, audio visual, and building automation systems, providing the operators with maximum control. Control and flexibility were also the key objectives electrically; in response, our team designed a motor control centre which provides power and control to the pool systems, while two networked lighting control panels integrate the sensors and switches in an efficient, user-friendly way.
Innovative master planning, truly functional programming, full system integration, and architectural beauty perfectly intersect in the design of this aquatic community hub, which is as impressive inside as it is outside.