Over the last decade, heavy timber buildings have begun sprouting up across Canada.
Techniques such as glue-laminated lumber (glulam) or cross-laminated timber not only introduce an appealing new aesthetic element, but also provide a sustainable alternative to traditional building materials.
According to a Sustainability Canada whitepaper on embodied carbon, a timber structure has 42 per cent less total embodied carbon than that of a steel and concrete structure – the two most common structural elements used in mid-rise buildings.
Beyond the environmental benefits, exposed wood introduces natural, aesthetically-pleasing design elements enjoyed by a variety of occupants, particularly in offices, condominiums, and now institutional buildings.
Should heavy timber design align with the overall goals of an owner, the impact on the design extends beyond the architectural or the structural. Working collaboratively with the owner, design team, and construction team, there are several mechanical and electrical design considerations that must be taken into account.
Image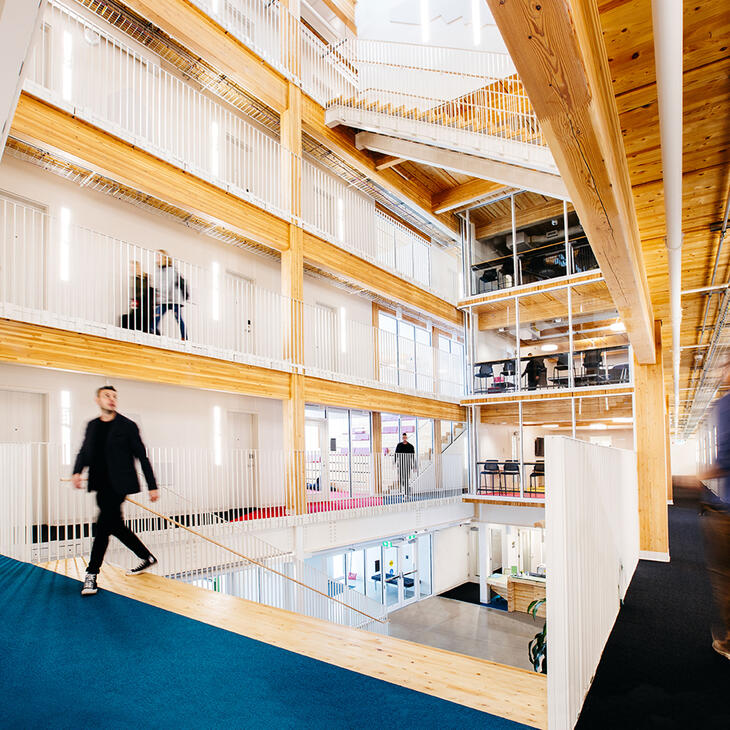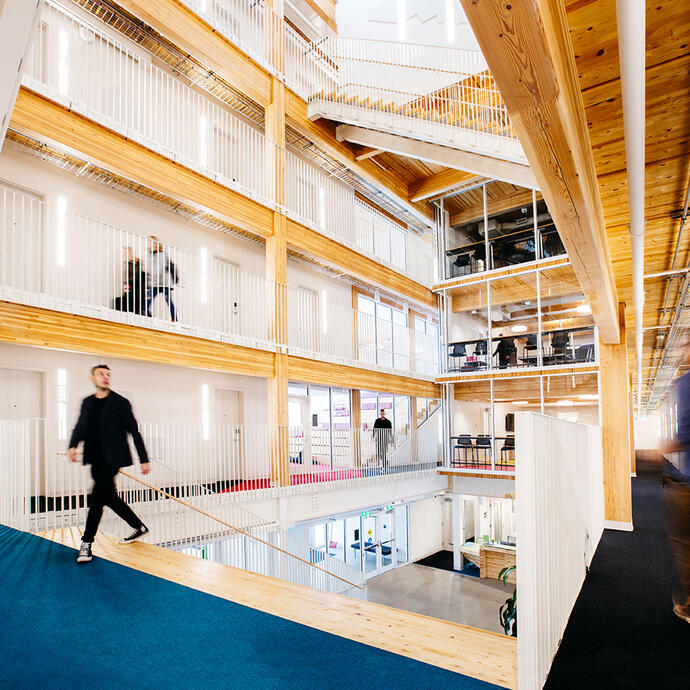 Sustainability Dominoes
Beyond the sustainable features of a heavy timber building, the actual mass timber itself has minimal impact on the mechanical and electrical systems. It's the high sustainability targets typical of heavy timber buildings, rather than the heavy timber structure itself, that tend to have a direct impact on the mechanical and electrical design.
In the case of 80 Atlantic (currently under construction), the client is targeting not only LEED Gold, but also alignment with Toronto Green Standard (TGS) Tier 1 requirements. The heavy timber design contributes to these sustainability targets, and our design also contributes to achieving those goals.
On this project, our design includes a raised access flooring system – an energy efficient solution that requires less ductwork than a traditional variable air volume (VAV) system. This method allows for mechanical HVAC and electrical power systems to be organized and concealed under the floor, and has become a go-to design solution for heavy timber buildings.
80 Atlantic also features fan coil units with ECM motors used on the perimeter of the building for heating with low-temperature water, which further reduces energy consumption compared to a traditional VAV system. Each of these features, in combination with the heavy timber structure, moves the building one step closer to achieving LEED Gold and the TGS Tier 1 requirements.
These same sustainability design features can achieve another likely goal of heavy timber project teams: showcasing the wood aesthetic.

Exposing Exposed Wood
As industrial designer Dieter Rams identified decades ago, good design is unobtrusive. Covering up a building's key feature – particularly a feature as pleasing as exposed wood in a heavy timber building – simply cannot happen. Large, visible beams and intricate timber ceilings are the impressive features that attract occupants. Mechanical and electrical systems must celebrate (rather than compete with) the wood design.
Design that features unobtrusive systems, such as a raised access flooring, can provide occupants with maximum views of the wood structure, as well as improved air quality and thermal comfort. These benefits promote productivity and reduced absenteeism – particularly in offices and institutional buildings like the University of Toronto's Academic Wood Tower.
To meet the aesthetics of a heavy timber project, collaboration with the project team requires a higher degree of certainty before construction begins. Design teams can use programs such as BIM to cautiously map out the space and predetermine the location of each system.
For example, if larger pipes and ducts do not easily pass between the access floor supports, the design must be adjusted for wider spacing – allowing us to keep the services below the floor. In these situations, careful coordination with the architectural and structural consultants is required to create appropriately-sized openings in the exposed wood beams for services to pass through.
Without this level of accuracy in the mechanical and electrical design, it would be difficult to achieve the desired exposed wood aesthetic, and may ultimately compromise the goals of the owner.

Fire Code Considerations
Right now, the truest unknown in heavy timber design is the long-term impact and implications on fire code regulations. As this type of design is a recent phenomenon, current building codes have placed limitations on these mid-to-high rise heavy timber buildings. In the present day, that means heavy timber structures are typically wrapped in drywall or cement to act as a fire barrier.
Therefore, standard mechanical and electrical design considerations around fire safety become critical when discussing a heavy timber structure. Such options are typically low-cost but high-impact, and include:
Improving the reliability of sprinkler systems through the introduction of multiple water services, run/standby fire pumps, and redundant fire protection mains/risers.
Adding additional smoke detectors that provide occupants with earlier notification of a fire, and additional time for emergency response procedures.
Maintaining smoke-free exits by mechanically pressurizing above-grade exit stairs and elevator shafts to improve occupant evacuation processes and fire department response times.
As provincial building codes address heavy timber structures, owners, architects, and design teams must take additional care when planning for this type of structure. Efforts taken to achieve sustainability targets and aesthetic goals are futile if they are not made within the confines of these mandatory requirements.
The Future of Timber Design
If Canada continues to incentivize new building owners to reduce their embodied carbon footprint, and more and more impressive architectural solutions are proposed as heavy timber buildings, the popularity of these structures will likely continue to rise.
Due to the nature of this growing trend, increased collaboration between all design disciplines will be vital as the industry forges ahead, discovering new ways to create sustainable buildings that still meet or exceed the functional requirements of owners.
Through our recent and ongoing work on several heavy timber projects across Canada – from office buildings (80 Atlantic Avenue), to educational institutions (University of Toronto's Academic Wood Tower), to residential buildings (Red Deer College Student Residence) – Smith + Andersen looks forward to solving and supporting the new challenges and opportunities associated with heavy timber buildings as they continue to unfold.