The dynamic development/design duo of Urban Capital and ZAS Architects + Interiors / Saucier + Perrotte Architects have collaborated yet again for River City Phase 3 (or "RC3").
Located northwest of Corktown Common park, just east of Toronto's downtown core, RC3 is the second last phase in Urban Capital's award-winning, LEED Gold community which, upon completion, will combine 1,100 loft-style condominiums with family-friendly townhomes and ground floor retail.
This latest phase marries the striking design elements of Phases 1 and 2 in a creative new way, adding 330 condo units to the growing West Don Lands. The unique "drawer-like" features on the north-east and west elevations of RC3 have become more defined in recent weeks, provoking excited updates from local news outlets.
The ambitious design of each phase of this development has required a collaborative team approach. From the very beginning, Smith + Andersen has provided mechanical and electrical solutions which are tailored to each highly-designed new building. For example, in order to accommodate the Flood Protection Landform underneath Phases 1 and 2, our team worked with the structural team to achieve a unique, suspended solution for buried services. Phase 1 also engaged the expertise of our lighting design experts, who worked with the interior designer to create asymmetrical corridor walkway lighting designs. This lighting team modelled feature walls for the main entrances, ensuring the desired effect would be realized in the finished building.
Image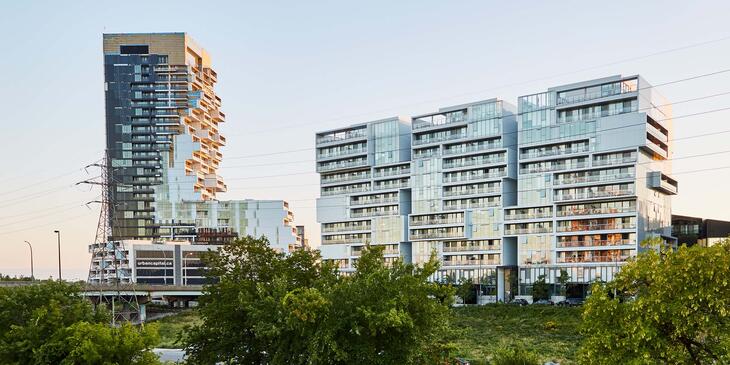 As RC3 continues to move forward – and its progress is regularly tracked by publications such as Urban Toronto and Daily Commercial News – Smith + Andersen is proud to be working with this talented team to re-define urban living on the east end.