The PCL Team has been selected as preferred proponent to design, build, and partially finance the New St. Paul's Hospital and Health Campus in Vancouver, British Columbia.
The PCL Team includes PCL Constructors Westcoast as the design-builder and equity member, with architects HDR Architecture Associates and Stantec Architecture. As part of the design team, Smith + Andersen is providing mechanical engineering, electrical engineering, communications and security design, and intelligent integration. Footprint, a member of the Smith + Andersen group of companies, is engaged as the sustainability consultant.
New St. Paul's Hospital and Health Campus, which is to be located at 1002 Station Street in the False Creek Flats area of Vancouver, will have capacity for up to 548 beds – 115 more beds than the current Burrard Street location. Once complete, the campus is expected to employ more than 10,000 people. In addition to acute care services, the campus will house medical and research space.
The focus of this new health campus is sustainability and resiliency, with connections to the surrounding community through walking and cycling paths as well as easily-accessible transit options. These governing principles have informed the building systems design, including heat recovery systems that will minimize waste, maximize efficiency, and reduce the carbon footprint of the campus. Energy performance for New St. Paul's Hospital and Health Campus is anticipated to exceed the rezoning requirements outlined in the City of Vancouver's "Green Buildings Policy for Rezoning" and "Greenest City Action Plan 2020".
Project renderings courtesy of PCL Constructors Westcoast Inc.
Image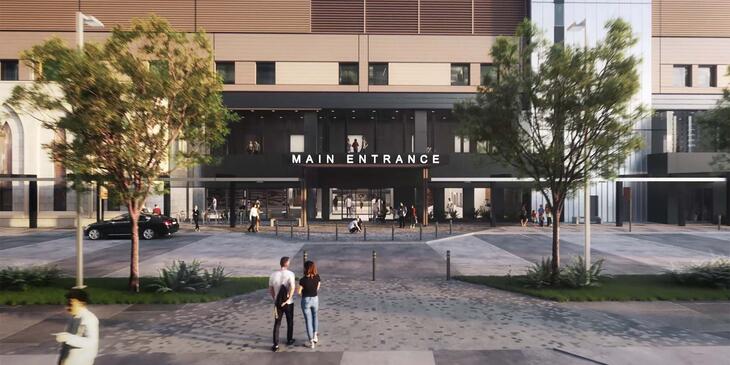 New St. Paul's has also been carefully designed to be pandemic-ready, a priority that was identified from the earliest planning stages. The campus will include up to 54% more critical care inpatient rooms, with empty "flex" spaces that can be leveraged to create inpatient rooms as required. All inpatient rooms will be single-patient, compared with 15% private inpatient rooms in the existing hospital. There will also be more than 90 special negative pressure "isolation" rooms.
Virtual health technology will be available in most areas across the campus, including the outpatient care centre, allowing clinicians and patients to meet through video when a hospital visit is not required. All care-based teams will have large, digital patient-tracking screens to show the status of all patients, and a real-time location system will allow staff to track where equipment is anywhere in the hospital. Touchless technology is also featured as part of the specialty systems design.
Smith + Andersen is proud to be part of the PCL Team for such an important addition to BC healthcare. This significant project win is a reflection of the strength of our local engineering and design team, as well as our national healthcare practice.
For more information:
New St. Paul's Official Website: http://thenewstpauls.ca/
New St. Paul's Announces Design Builder (Release, February 9, 2021): http://thenewstpauls.ca/the-new-st-pauls-hospital-announces-design-builder/
News from the CEO: The New St. Paul's Hospital Reaches an Exciting Milestone (Bulletin, February 9, 2021): https://covid19.providencehealthcare.org/stories/news-ceo-new-st-paul%E2%80%99s-hospital-reaches-exciting-milestone
PCL picked to build $2.1B replacement for St. Paul's Hospital at new Vancouver site (OnSite, February 11, 2021): https://www.on-sitemag.com/construction/pcl-picked-to-build-2-1b-replacement-for-st-pauls-hospital-at-new-vancouver-site/1003971939/
PCL Construction Awarded Contract for the new St. Paul's Hospital (PCL Release, February 25, 2021): https://www.pcl.com/ca/en/insights/pcl-construction-awarded-contract-for-the-new-st--paul-s-hospita