On April 20, 2023, the Eco Jam charity rock concert officially returned.
After a five-year hiatus, this infamous event was welcomed once again by the architecture, engineering, and construction industry. The concert was held in downtown Toronto at The Phoenix Concert Theatre, and drew more than 1000 attendees. For the first time ever, Eco Jam sold out more than a month ahead of time, with record attendance and support for the participating bands. This year also marked a full decade since the inaugural Eco Jam.
A charity event since its inception, this benefit rock concert also highlights the musical talent hidden in our industry – talent that has become less hidden with repeat performances from Eco Jam regulars. The number of participating bands has also grown steadily over the years, culminating in an astounding fifteen participating bands (nearly 100 performers) at Eco Jam 2023.
Image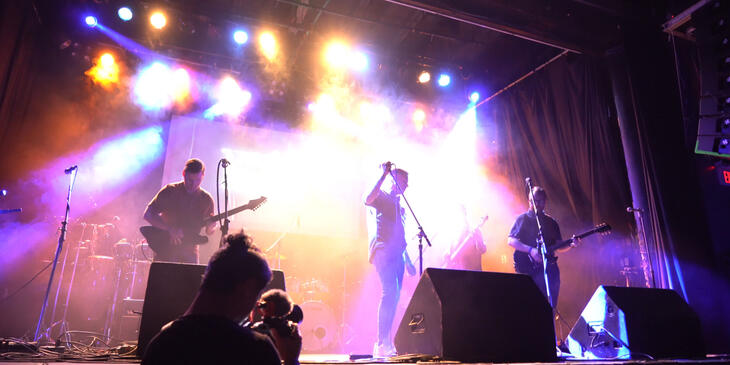 The benefit concert included performances by:
The adHOKs (HOK)
Arc Flashes (Smith + Andersen)
The Deadlines (Montgomery Sisam Architects)
Deficiencies (B+H Architects)
DEFPOINTS (Hariri Pontarini Architects)
EllisDominators (EllisDon)
Envy & the Cants (Entuitive)
Mies Van Der Rock (CS&P Architects)
PUBLIC AMENITY (Zeidler)
The Quadruplets (BDP Quadrangle, Multiplex)
Sustainable Beats (University of Toronto)
The RFIs (Arcadis)
The Takeoffs (Bird Construction)
ThunderTRUSS (Diamond Schmitt Architects)
Unmute! (EllisDon, Terry Flynn Consulting, Kirkor Architects and Planners)

The event also saw more sponsorships than ever, with 23 industry organizations stepping up to sponsor the event.
Due to the record number of participating bands, tickets sold, and sponsorship support, Eco Jam 2023 raised $50,000, which will go to Forest Recovery Canada (a division of Forests Ontario), planting 12,500 trees across Canada. Eco Jam's long-standing connection to this organization really underscores the importance of trees to the construction industry, as well as how essential our industry is to the conversation around climate change. In total, Eco Jam has planted 27,820 trees since it began in 2013.
Smith + Andersen wholeheartedly thanks everyone who supported the return of this event, including all of the performers, sponsors, and attendees. A specific thank you to Lesley Smith from Stella Custom Glass Hardware, as well as Bill Michoulas and Doug Aris from EllisDon, as well as to all of the volunteers who helped make the event a success.
Smith + Andersen is also pleased to announce Eco Jam 2024, which is booked for Thursday, April 25, 2024 at The Phoenix. We're looking forward to continuing the tradition of this beloved event, and planning is already underway.
If you're interested in participating in Eco Jam 2024 – either as a band or as a sponsor – please COMPLETE THIS FORM to get in touch with the Smith + Andersen Marketing & Communications team.