"Flexibility" is the name of the game when it comes to Tenant Improvement projects.
Whether it is mechanical systems that provide both energy efficiency and maximum adaptability for today's dynamic office environments, or lighting designs that enhance a company's image, the aim is to keep costs low and flexibility of usage high. Smith + Andersen understands that sometimes it is what you don't see – above the ceiling or below the floor – that can strongly impact the tenant experience and improve productivity in the work environment. And with our extensive knowledge and experience, S+A can advise tenants on the advantages and disadvantages of different base building systems in their search for a suitable home.
Image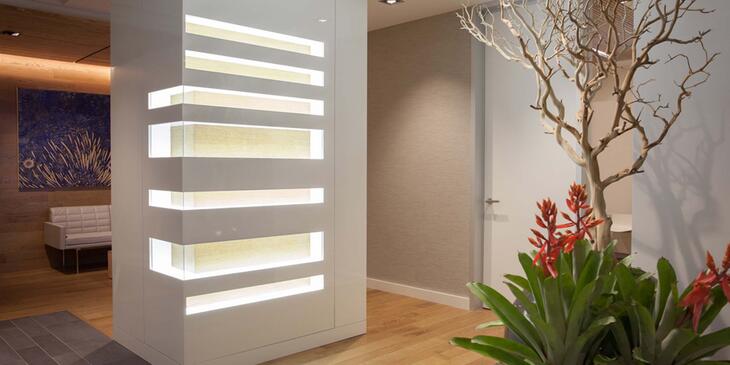 Q&A with Smith + Andersen team members
Why is flexibility important to your work process?
Hans: Ensuring mechanical systems are as flexible as possible helps reduce costs of future changes – also known as "Churn." At the same time, a balance is required in that the systems must function suitably for the occupants' current needs. Variable Air Volume (VAV) systems are still a common choice for many building owners and operators; however, the industry is beginning to accept new mechanical systems like Hybrid VAV, underfloor air distribution (UFAD) and chilled beam systems. It is crucial to discuss the right combination at the early stages of design so performance and flexibility can be optimized while maximizing rentable area.
A chilled beam system is an interesting system example for tenants, as there can be challenges applying the system to perimeter zones. S+A recently designed a hybrid system utilizing chilled beams on the interior zones, where loads are more constant, and non-condensing Fan Coil Units (FCU) on the exterior to meet variable demands. The FCU's are also non-condensing and have variable flow characteristics that take advantage of the energy savings from any off-peak times of the day. Tenant improvements, should they be needed, would be similar in scope to a fan powered VAV application, which is fairly standard in the industry.
The hybrid system provides a more effective and energy-efficient system where heating and cooling loads are greatest, while still maintaining the optimal flexibility on the interior floor plates where ductwork and diffusers are most often relocated. It has proven to be quite a cost-effective base building solution.
Having the flexibility to move office walls or change from open workstations to closed offices is commonplace in today's modern, fast-paced work environment. Our design focus at S+A embraces this fact. We understand that what is sufficient today may not suit the needs of tomorrow. That's why we add flexibility to the design by, for example, ensuring that sprinklers are not lined up with window mullions – the typical location for a wall or partition to be built or installed. Taking the time during design to plan a smart sprinkler grid can minimize the cost of relocating sprinklers if there are future changes to the floor plan. At the same time, while the key to the design is to have a system that is flexible enough to allow for these changes, cost considerations must be balanced with that flexibility. So while the most flexible approach may be to have a control zone for every office – the more zones, the easier the HVAC system can be modified with future wall changes – control zones in every space is cost prohibitive. That's why we pay careful attention to both the layouts and the project budget to provide the most flexible system that will reduce the amount of mechanical changes required for minor wall movements.
Of course, the aesthetics of the environment plays a large role in our designs. The goal of any mechanical system is to be as "hidden" as possible, and systems should respond to the changing loads without input, while not limiting the interior design. We see ourselves as a partner in this respect, and work with the interior designer to help achieve their vision for the space.

Describe how you customize lighting designs to enhance the corporate image or personality of the tenants.
Rafael: When designing lighting for tenant spaces, we always look for solutions that reflect and enhance the client's identity. For Hudbay Mineral's corporate headquarters, we integrated lighting solutions within their own raw materials – including stones, aluminium and zinc ingots – right into the main office finishes. By doing this, our lighting design got to the very essence of the company's business, allowing them to present to the public, and to themselves, a very real manifestation of a modern, state-of-the-art mining company. In more specific terms, for this LEED-compliant project each light source was carefully selected and located according to each material's properties to create highlight, graze or backlight effects. All while keeping the proper lighting levels for an office environment, of course.

Does the impact on the tenants themselves form an important part of your lighting designs?
Rafael: Absolutely. A key consideration in our planning is how we can improve the end user's well-being while reducing energy consumption. Hoffmann-La Roche is an interesting example of tenant-designed spaces. We wanted to incorporate natural daylight as a lighting feature for all the atriums. That meant not blocking out the sunlight with our design. Another important consideration was accessibility for maintenance. This holds true even with today's long-lasting luminaires, such as LEDs. We came up with a combined solution: provide an illuminated ring with LED technology that was large enough to not block the direct sunlight, yet powerful enough to provide illumination for up to two floors. As for maintenance, the ring was centered at the atrium areas, where it was accessible via scissor lift. As the atriums were three floors in height, they received supplemental linear luminaires vertically mounted on the columns and the ground level to provide vertical illumination and emergency lighting.

What about accommodating changes in a project's scope?
Tony: The world of Tenant Improvement (TI) projects is a dynamic one, and scheduling of assignments must take into consideration "scope creep" and other changes which are almost inevitable in every project. S+A, through proper scheduling and communication, is flexible enough to accommodate these changes, especially if they occur towards the beginning of the process. Sometimes the changes can be extensive and the deadlines immediate. That's why communication is one of the more important aspects in our work process, whether it's communicating internally with our team members or externally with our clients and end users. It is particularly important to communicate any potential risk – and discuss possible implications – of not meeting a deadline or budget. Any change request must be documented, analyzed, and then understood by the client. That process, however, should be balanced with the need to run the project efficiently and effectively.

What do you bring to the table that other engineering consultants don't?
Rick: As a multi-disciplinary firm, we offer clients a full range of integrated services and solutions. Our "one-team" approach to these services ensures that projects are completed more efficiently, and that designs are coordinated across all disciplines.
As base building engineers to a wide portfolio of buildings across Canada, we are also experienced in working with all types of mechanical and electrical systems. Our ability to understand a building's mechanical, electrical and architectural limitations means that potential installation challenges are identified and communicated to our clients early in the design stage. That means appropriate solutions can be implemented to avoid costly changes. It is something we're especially proud of at S+A – and we have lots of success stories to back this up. It's why we have a reputation as an industry leader – a recognition that is continually demonstrated out in the Tenant world where our clients make important decisions on what engineering firms they want to work with.
Dustin: Audiovisual consulting has become an important and more commonly requested tenant service from Smith + Andersen over the past few years. System design and early coordination between disciplines are obvious benefits – but budget guidance and project management services are key features that enable us to consistently deliver successful projects. S+A will be presenting at IIDEX Canada 2016 on November 30th at 3:00pm. The seminar is titled "Audiovisual Coordination and Planning for Successful Project Outcomes" and is worth 0.1 CEU which can be used for both interior designer and architect continuing education credits.